About
Period Tracking Calendar (Period Plus) is exactly what you need to be in the know of how long you're cycles last and when your next one should start. Plan your vacation with the built in calendar by viewing future period and fertile dates. Get reminders of your next period and fertile window.
Track the following items:
Alcohol Consumption • Backaches • Basal Body Temperature • Bowel movements • Breakouts • Breast tenderness • Cervical mucus quality • Cycle day • Cramp intensity • Exercise • Intimacy• Maxi Pad and Tampon Usage • Migraines • Oral Sex • Orgasm • OB/GYN checkups • Period duration, color and intensity • Pregnancy test results • Sleep patterns • Spotting • Stressors • Vitamin regime • Weight changes • Yeast Infection • Five additional customizable items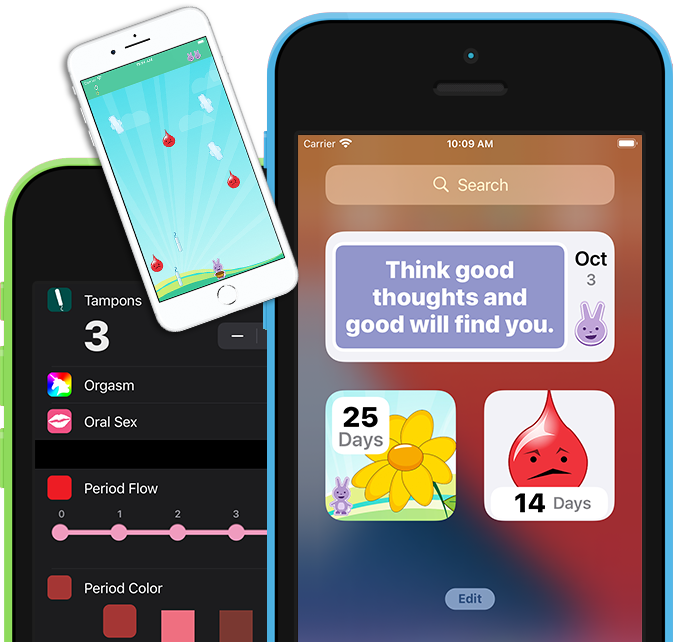 Features
Includes support for Apple HealthKit by synchronizing your menstruation, spotting, cervical mucus quality, basal body temperature, weight, and intercourse information. Dark mode support, widgets and daily affirmations. As an added bonus a period themed video game!
Requirements: An Apple device running iOS 12 or higher.

Languages: English, French, German, Spanish, Japanese, Korean, Portuguese, Russian, Italian, Chinese Traditional, and Chinese Simplified.

By using the "Backup / Restore" feature from the "Data" tab.
Run the iOS Settings app. Find the "Period Plus" app in the bottom area, tap on it and turn on the "Delete passcode" switch.
Don't use the "Period Flow" slider for tracking spotting, use the "Spotting" switch instead.